The Clyde Theatre Wins!

April 25, 2019
We are honored and excited that our work on The Clyde Theatre won the 2019 Excellence in Construction Award from the Building Contractors Association (BCA) in the "Renovation over $2 Million" category!
Representing almost 300 companies, BCA of Northeast Indiana has had a presence for over 100 years, providing support in economic development, workforce development, lobbyists to Northeast Indiana elected officials, OSHA & safety training, and networking opportunities for the design and built community. BCA is locally focused, communicates to local government and engages community leaders.  These are attractive aspects of the organization and are matters that BCA members find important.  MSKTD is proud to be a longstanding, contributing member of BCA!
Constructed in 1951, the A.M. Strauss-designed Clyde Theatre with its art deco-style interior, was Fort Wayne's premier movie theater, seating more than 1,700 patrons. With the emergence of multiplex theaters, the Clyde ceased operations in the early 1990s. The property changed hands several times and neglect left the venue in disrepair, with Quimby Village also affected by the Theatre's decline.
With a vision to transform the dilapidated venue into a state-of-the-art performance venue, Rick Kinney of EvenKeel Productions bought the facility in 2012 at a tax sale for $500. A meeting with Jim Kratzat, MSKTD Founding Principal, and later MSKTD's design team, laid out the framework for a budget-minded renovation project plan. Rick Kinney worked diligently to persuade government officials and others to invest in the project.
Design began in May of 2015 and was completed in July 2017.
Local philanthropists, Sweetwater Sound's founder Chuck Surack and wife Lisa, provided a significant investment in the renovation of The Clyde. Other funding support included a $1 million Legacy Fund loan, $1 million in Regional Cities grant money, and a City of Fort Wayne façade grant. This financial help brought Rick's vision to fruition: a modern multi-purpose arts and entertainment venue with a luxurious lobby that represents most of the original art deco style of the original building. Unique to the Quimby Village area, The Clyde Theatre rivals those entertainment venues in larger cities and attracts national talent to the Summit City.
The project encompassed 34,000 square feet and featured the following:
• Interior and exterior façade improvements
• First floor renovations which included:
• 11,800 s.f. theater area that can accommodate 2,150 people as a general admission concert hall
• 2,525 s.f. open lobby consisting of the main entrance, refreshment bar, art gallery, box office, and other building services
• Second floor renovated area included 5,500 s.f. of gallery space, VIP box suites, and offices
• A 7,500 s.f. addition expanded the backstage area to serve as a hospitality wing with a variety of dressing rooms for performing artists
• State-of-the-art sound and lighting systems
• New heating, air conditioning, electrical and plumbing systems, and a reproduction of the original Clyde sign above the marquee
• Parking lot pavement resurfacing
MSKTD provided architectural, civil and structural engineering, MEP (mechanical, electrical, plumbing), and interior design services for the project. Russ Berger Design Group was a consultant to the Owner, offering expertise in acoustical design and sound engineering. Hagerman Construction served as the general contractor.
Construction began in July 2017 and was completed in May 2018.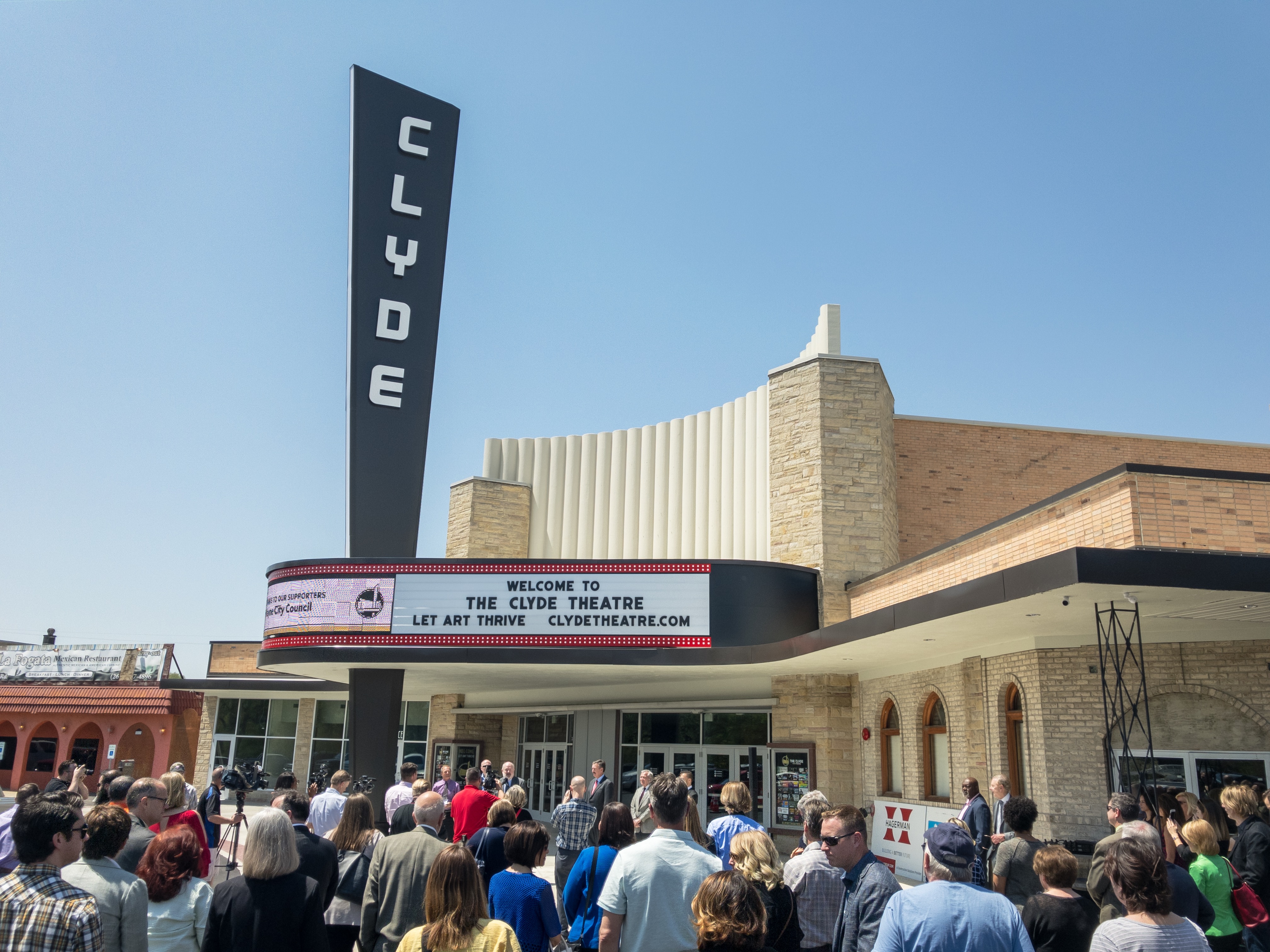 "I commend Rick for his determination in making this project happen. Our commitment to urban and neighborhood revitalization is continuing with this unique renovation and expansion effort. Fort Wayne continues to be a leader in innovative projects. We're confident the Clyde Theatre will be a tremendous asset to the community and region."
Mayor Tom Henry
The Clyde Theatre Ribbon-Cutting Ceremony
The Clyde Theatre fills a niche in the Fort Wayne entertainment community as the only performing arts theater in northeast Indiana offering both assigned seating events and standing-room concert events. The significant investment in The Clyde has already spurred improvements to the Quimby Village shopping center and business activity in the surrounding area.
This project has been community-focused from its earliest beginnings – the business plan and vision statement was titled "Saving a Historic Landmark in Fort Wayne, Indiana & Rebuilding a Cornerstone of Commerce in Our Community." Its ensuing success is due to the vision, dedication, and perseverance of a true partnership that shared in that vision – Rick Kinney, the Suracks, the design team, contractors, local officials and community members.
"When I was in high school, I went to The Clyde to watch movies and it was a really cool place. Unfortunately, it sat empty for many years. When we got the opportunity to work on the project, turning it into a new music and entertainment venue, it was pretty darn exciting! To be able to turn it into a first class place has changed the neighborhood and that part of town. I know that Fort Wayne is focusing on downtown, but our neighborhoods are just as important and this was a major coupe to that part of town. I've been there for several shows and it's been just awesome and has turned out to be a real winner for the city. I can't say enough about how excited we were to be a part of resurrecting a piece of Fort Wayne history."
Jim Kratzat
MSKTD Founding Principal